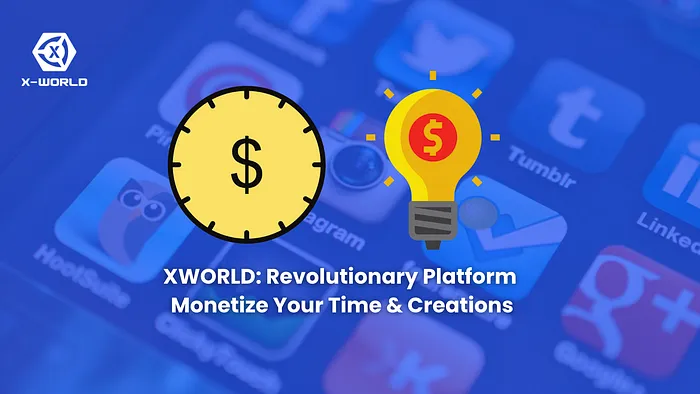 Apps have become a vital part of our lives in the modern digital age. From ordering food to booking a cab, checking the weather to playing games, there's an app for everything. It's hard to imagine a world without apps. However, what if apps could also be turned into money? That is precisely what XWORLD aims to do.
XWORLD is a revolutionary platform that helps app developers monetize their creations. By integrating with the XWORLD platform, app developers can convert their apps into revenue streams without charging users. This approach encourages more users to download and use the apps, which, in turn, generates more revenue for the developers.
The XWORLD platform offers a plethora of features to make app monetization easier and more effective. Using XWORLD, developers can add ads, in-app purchases, subscription models, and more to their apps. The platform also helps them track user behavior and tweak their apps to generate more revenue.
XWORLD also makes it easier for app developers to market their apps to a broader audience. It offers extensive analytics that provides insights into user demographics, behaviors, and preferences. Armed with this data, developers can create targeted marketing campaigns that reach the right audience at the right time.
XWORLD doesn't just benefit app developers. It's also a boon for users. By monetizing their apps, developers can offer their apps for free. This means that users can access and use a wider variety of apps without paying for them. Moreover, XWORLD's revenue-sharing model ensures that both developers and users benefit from the platform's success.
XWORLD's impact on app monetization has been significant. Since its launch, it has transformed the app industry, turning everyone's attention on the possibility of making money from apps. The platform has unlocked a new revenue stream for developers, and as a result, more app creators are jumping on board. This means more and more innovative and useful apps are being created, which ultimately benefits users.
In sum, XWORLD is a game-changer in the app industry. By offering a comprehensive platform that helps app developers monetize their apps, it has opened up a new world of opportunities in app creation and consumption. It has turned everyone's attention on the possibility of making money from apps, and as a result, unleashed a new wave of creativity and innovation in the digital world.
X-WORLD
Enjoy Your Passionate Game Time, Every Second Becomes Your Income.