How Web3 Software and Games Embrace New Opportunities Under The Majesty of Internet Giants?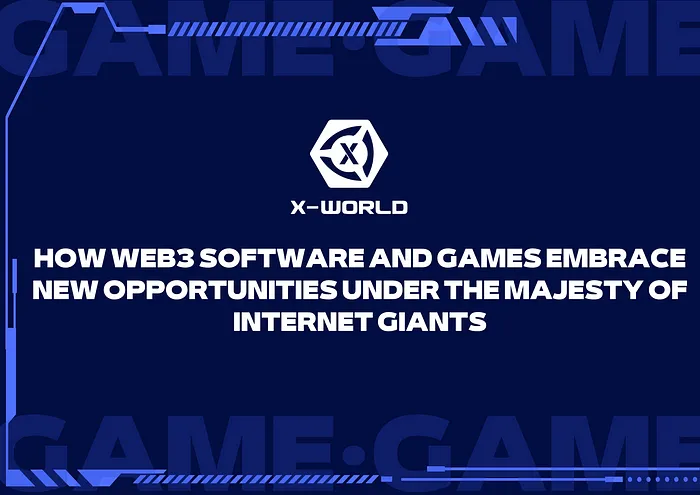 In Web2, internet giants have established a strong market position through advertising monopolies, which presents challenges for Web3 technology to enter the advertising market. The market dominance of these giants, along with their accumulated data, algorithm optimization, network effects, and substantial funding and resources, allows them to monopolize the advertising industry. However, with the development of Web3 technology, we have witnessed potential opportunities and trends.
Web3 Technology and Decentralization:
Web3 technology, built on the principles of decentralization and blockchain, introduces a paradigm shift in the way software and games operate. Unlike traditional centralized platforms, Web3 embraces transparency, trust, and user empowerment. This fundamental shift paves the way for novel revenue streams and opportunities for both developers and users.
Decentralized Advertising Platforms:
One of the significant changes brought by Web3 technology is the emergence of decentralized advertising platforms. These platforms leverage blockchain and smart contracts to facilitate direct collaboration between advertisers and publishers, cutting out intermediaries. By ensuring fair distribution of advertising fees and eliminating opaque practices, these platforms empower content creators while providing more relevant and personalized ad experiences for users.
The Rise of User-Generated Content and Rewards:
Web3 software and games foster user engagement through user-generated content and rewards. With the integration of blockchain and cryptocurrencies, users can directly interact with content creators, contributing their own creations or participating in community-driven initiatives. This shift allows users to be actively involved in the content ecosystem and be rewarded for their contributions, whether through voting, tipping, or subscription models. This user-centric approach strengthens community engagement and drives the development of high-quality content.
How xworld gets involved with web3
Xworld revolutionizes user interaction with digital content in the Web3.0 space, aiming to address and overcome obstacles that exist in the industry. Unlike traditional passive consumption, Xworld transforms users into active participants within the ecosystem. By valuing users' attention and time, Xworld introduces a fair reward system, effectively converting them into a source of income. This empowerment grants users greater control over their internet experience and allows them to shape the content they engage with. With a focus on incentivizing user engagement and providing fair rewards, XWORLD encourages users to actively contribute to the platform's growth and success.
Conclusion:
As the Web3.0 revolution gains momentum, Xworld stands as a pioneer in reshaping the landscape. By revolutionizing user interaction with digital content, Xworld empowers users to become active participants in the Web3.0 ecosystem. With its fair reward system, Xworld values users' attention and time, allowing them to convert their engagement into income. Embracing this new era, Xworld invites you to join its community, unleash your creativity, and contribute to the growing Web3 movement. Together, let's shape the future of gaming and digital content.
X-WORLD
Enjoy Your Passionate Game Time, Every Second Becomes Your Income.