What is $BUILD?
$BUILD is a utility token in the XWORLD ecosystem that has a decisive impact on driving the system's development and incentive mechanisms. As the ecosystem grows and more developers and users join, the output of $BUILD will continue to expand.
In XWORLD, users' attention and time can be converted into BUILD, which is recorded and used as an anchor for incentives in the form of $BUILD. This makes XWORLD a truly user-driven ecosystem, where everyone's participation can bring substantial rewards. Whether you are a game player, developer, or participant in community activities, any contribution you make in XWORLD can be captured and rewarded through $BUILD.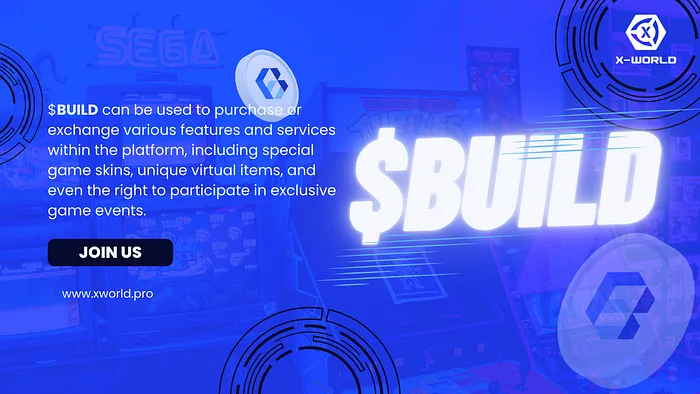 The Utility of $BUILD?
$BUILD has multiple use cases on the XWORLD platform. For example, developers can use $BUILD to precisely target their desired users through the X-BOOST service. This not only helps developers acquire more users but also enables a better understanding of user needs, leading to improved services. The demand for $BUILD from developers is expected to continuously increase.
Furthermore, $BUILD can be used to purchase or exchange various features and services within the platform, including special game skins, unique virtual items, and even the right to participate in exclusive game events. In the future, it will support the exchange of assets for more high-quality games, including rewards for staking $BUILD, thereby increasing the consumption scenarios for $BUILD and promoting the healthy development of the ecosystem.
Although $BUILD is anchored to the value of other currencies, its price may still be influenced by factors such as irregular buyback plans, periodic burns, or large-scale accumulation by users, leading to price fluctuations. This design not only gives $BUILD utility token functionality but also allows users to potentially gain economic returns by holding and trading $BUILD, further enhancing their motivation to participate in the XWORLD ecosystem.
About $BUILD in the XWORLD Alpha Test?
In the XWORLD test version, $BUILD plays a central role as it records and converts users' attention, time, behavior, interactions, and contributions into $BUILD, which can be used to attend more community activities or obtain specific rewards.
Furthermore, during the test version, developers can use $BUILD to attract and incentivize target users. They can purchase and mint $BUILD to drive user growth and engagement for their applications or games on the platform. This not only helps developers better understand and meet user needs but also enables them to establish a strong user community in the early stage.
Although during the test version, the issuance and circulation of $BUILD are in a centralized test network state, it does not mean that it is merely an internet points system. $BUILD has already demonstrated its ability to connect users, developers, and the platform, driving ecosystem activity and growth. As of now, XWORLD has accumulated over 500,000+ test users. While the specific economic model and value anchoring of $BUILD in the test network stage are not fully defined, it can already be seen that $BUILD will have even greater utility and value when XWORLD is officially launched.